Update March 28th, 2010 – see some sparks 🙂

Update February 26th, 2010 – >20cm sparks!
The two marx generators has been fit together on a nice platform, using some tick PVC from PETs to insulate each tower. Also the missing caps have been added and I have 2×11 levels!
The HV kicksbacks from this device are really dangerous for my power supply, so I will fire it up, after I finish the protection module. Keep an eye on this page for some neat monster sparks!
Update February 11th, 2010 – 20cm sparks!
I've built a second marx generator and hooked the two together. Incredible monster discharges of up to 20cm without any tweaking (I suspect to get even more out of it):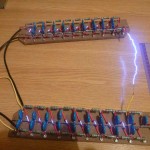 The frequency is still good aprox 2 discharges / second with a 555 flyback powersource.
Still the twin marx generator is incomplete, I need to add 3 more stages in those empty sockets, then do some tweaking for max performance.
The schematic for the dual marx generator is as follows: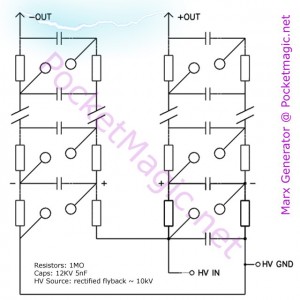 Update February 4th, 2010 – 7cm sparks!
I've added more stages for a total of ten. To save some capacitors, I've reconnected them in series of 2 for 12KV@5nF. The result was 7cm sparks:
First version February 1st, 2010 – 5cm sparks!
Here is a first preview of my Marx generator. I'm using 6KV@10nF capacitors connected in a block of 3 for 18KV@3.3nF.
The resistors are 2W 1M, but I should use two connected in series to hold the arc-overs better. Currently there are 7 stages.
Here's a video in HD @720p:

And some pictures:
The schematic: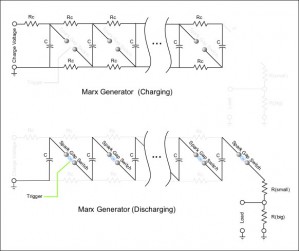 My current setup produces 5cm sparks. A simple way of producing very high voltages with cheap components.