Pictures: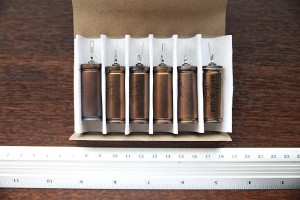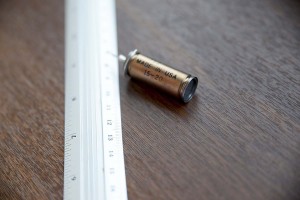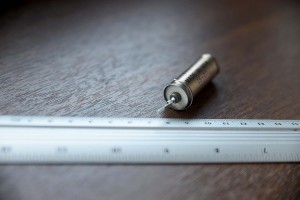 An excellent miniature mica window Geiger tube, suitable for detecting Alpha, Beta and Gamma radiation. As of 2015, it was selected for the uRADMonitor D series of radiation detectors.
Details:
Halogen quenched Geiger Muller tube, with a Mica end window making it suitable for detecting alpha beta and gamma radiation.
Notes on sensitivity:
The sensitivity of this miniature Geiger tube is amazing, placing it closeto the larger SBM-20.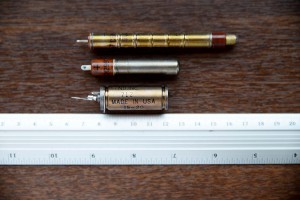 Most likely the materials used in its manufacture and the geometry of the anode and cathode have been carefully chosen to offer an improved performance. It's definitely a great candidate for miniature DIY geiger detectors. The following chart shows the average of the background readings over a period of several hours and each point in the chart was computed using another average of 60 independent, consecutive measurements. The dosimeter used to take the measurements has 1 minute resolution.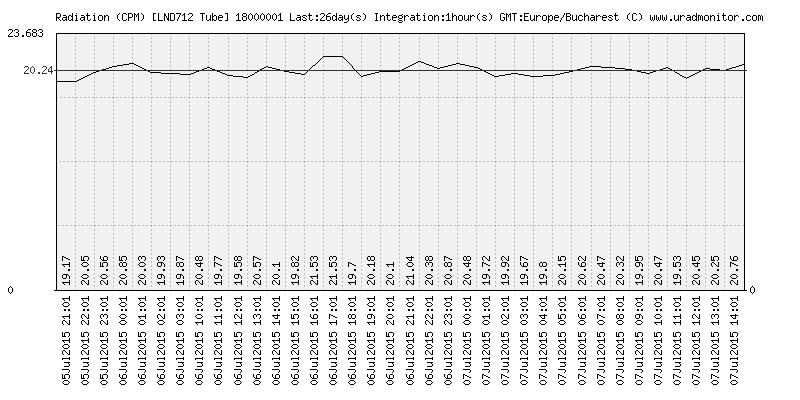 Background readings: 20.24CPM for a gamma background radiation level of 0.12uSv/h
Datasheet:
GENERAL SPECIFICATIONS
GAS FILLING Ne +Halogen
CATHODE MATERIAL 446 Stainless Steel
MAXIMUM LENGTH (INCH/MM) 1.94/49.2
EFFECTIVE LENGTH (INCH/MM) 1.5/38.1
MAXIMUM DIAMETER (INCH/MM) 0.59/15.1
EFFECTIVE DIAMETER (INCH/MM) 0.36/9.1
CONNECTOR Pin
OPERATING TEMPERATURE RANGE °C -10 to +75
WINDOW SPECIFICATIONS
AREAL DENSITY (MG/CM²) 1.5 – 2.0
EFFECTIVE DIAMETER (INCH/MM) 0.36/9.1
MATERIAL Mica
ELECTRICAL SPECIFICATIONS
RECOMMENDED ANODE RESISTOR (MEG OHM) 10
MAXIMUM STARTING VOLTAGE (VOLTS) 325
RECOMMENDED OPERATING VOLTAGE (VOLTS) 500
OPERATING VOLTAGE RANGE (VOLTS) 450 – 650
MAXIMUM PLATEAU SLOPE (%/100 VOLTS) 6
MINIMUM DEAD TIME (MICRO SEC) 90
GAMMA SENSITIVITY CO60 (CPS/MR/HR) 18
TUBE CAPACITANCE (PF) 3
WEIGHT (GRAMS) 8
MAXIMUM BACKGROUND SHIELDED 50MM PB + 3MM AL (CPM) 10
Links: