I've been looking for some techniques to make a photo look old, not black and white, not sepia, but a color old photo look. I've seen this in so many pictures and I must say I liked it a lot especially for those photos that have intense red in it, because this effect makes the photo more greenish. I like high quality colored photos, but for some this old look photo style looks just perfect. And for those of you who are only interested in the result and are not really passionate about Photoshop there are the so called Actions, that are *.atn extension files, and when loaded and played they automatically apply a set of effects, that can be eventually adjusted or even removed for those Actions that are made with layers. The *.atn I've found has no layer but you can see all the effects applied in history.
Here is the original photo with a place from Corfu's old city which reminds me of it's old taverns, new cafes, clubs and all kind of shops, a city with narrow streets and architecture strongly influenced by the Venetian style as it was under Venetian rule for a long period of time.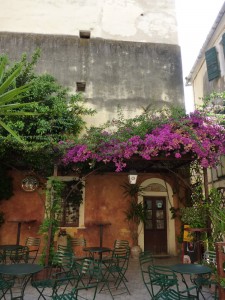 As you can see this photo stands out on it's own, but with the Actions applied it's pretty good too.
Here are the steps:
1.Download the *.atn file.
2.Place it anywhere on your computer
3.Load a photo in Photoshop, make a layer from the background, duplicate the layer so you have the original too.
4.Go to Actions at the right panel near History, click on the down arrow next to the tabs, and hit Load Action.
Browse for the action and load it.
5.Select the loaded action from the Actions and hit the play button that is under the Actions list. Wait until it does it's job.
6.You can see all the steps in the History.
And this is the result. I set the opacity of the transformed layer to 63% so it has a little more from the original image.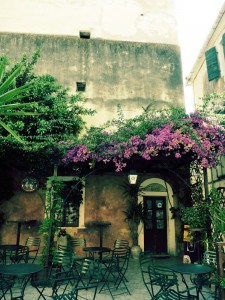 As you can see in Actions, there are also other predefined actions you can give them a try too. Or search for other nice desired actions over the net.
Have fun!