The A1301 and A1302 are continuous-time, ratiometric, linear Hall-effect sensor ICs. They are optimized to accurately provide a voltage output that is proportional to an applied magnetic field. These devices have a quiescent output voltage that is 50% of the supply voltage.
This means that if you connect the A1302 to a 5V power supply and there is no magnetic field applied to this sensor, it will output a voltage of 2.5V.
If you connect this voltage output to a microcontroller's ADC port, having the maximum reference voltage of 5V = value 255 for 8bit ADC, the 2.5V will return a value of 128.
Click the thumbnail below, to see an animated image with an A1302 test. I've used neodymium magnets for this test.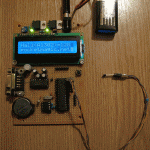 The sensor output goes from 128 to 255, by an exponential variation (the closer is the magnet, the bigger the value read).
Reversing the magnet, applies an opposed sign magnetic field , resulting in values lower then 128:
So you can also use the sensor to identify the North and South poles of a magnet.
The schematic for this circuit is very simple all you need to do is connect the VOUT pin of the A1302 to one of the ADC pins of your microcontroller: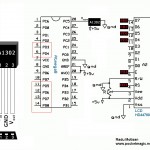 You can check the datasheet for the A1302 here. The C Code for this project is available here.
I'm planning to use this for a magnetic levitation device. The board was designed with a ATTiny45: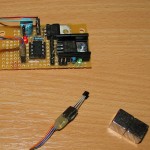 Cheers!
Radu Motisan