Pictures: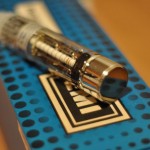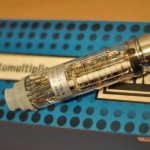 Details:
EMI photomuliplier tube type 9524S (ser no 60678). 14 pin base.
30mm diameter, 112mm long, 11 dynodes, responds to light wavelengths from 320nm to 630nm.
Low dark current, typical sensitivity 50uA/lm, 20.5% peak Q.E.
Lime soda glass window, S-11 type photocatode; 11 dynodes coated with CsSb. 14 pin, B14B base. Intended for scintillation counter applications.
EMI/US, North Hollywood, CA, USA, known manufacturer.
Datasheet: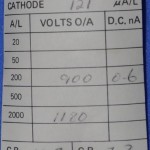 Links:
http://www.radiomuseum.org/tubes/tube_9524b.html