Since most of the things I build are modular, and often get disassembled to use parts in other projects, I decided to make an exception for my ZVS Tesla Coil and leave it in a form easy to plug and play.
I already had the ZVS module, a good flyback transformer with built in HV diode, and lots of HV cables. Time to put everything together in a final form.
Here is a light bulb "powered" by my Tesla coil.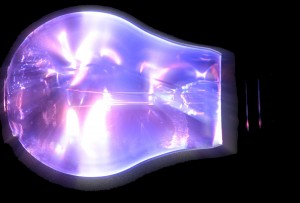 To my previous design I've added a second deck, to contain the power source (ZVS+flyback), the capacitor bank and the spark gap.
The tesla transformer has a secondary of 1500 windings (Cu 0.2 mm on a PVC pipe diameter 5cm/length 30cm), and a primary with 16 windings (Cu 4mm on PVC pipe diameter 11 cm/ length 10cm):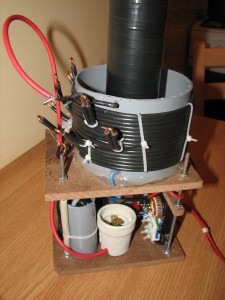 The primary has several plugs, used to make the primary and the secondary resonant at the same frequency.
Photo 1:The small PVC pipe contains the capacitor bank (9x10nF/6KV, connected for 10nF/18KV), and a small filter.
I've used a ceramic bulb socket to contain a static spark gap and limit the noise. It also has a lid, not shown in the photo
To the right you can see the ZVS module.
Photo 2: the ZVS Heatsink, and the power-in/ground connector. It might be a bad idea to have the ground so close to the low voltage connector. I'll need to check that.
Photo 3: the flyback transformer, and the rewound primary (blue wire 4+4 windings). When powered by the ZVS driver at 30V the sparks start at 1.5cm and can be stretched to almost 4cm. Quite powerful.
Photo 4: front view, the flyback , a small filter connected on the 'cold' wire (black) and the capacitor bank again.
The complete schematics: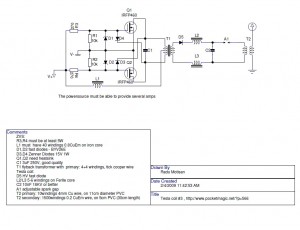 This setup needs further improvements, so I'll update this post soon.