Using a single mosfet (IRFP 460) in an Armstrong oscillator, I was able to obtain my first SSTC "light" , accompanied by a powerful RF field.
High frequency Solid State Tesla coil circuit: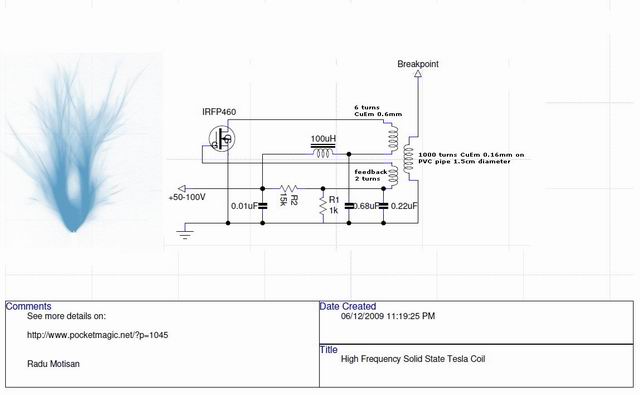 The first tests seemed promising, however the breakout needed to be instantiated manually using a screwdriver:

The video shows the very first tests, without any tweaking. The primary was set at 4 turns. The mosfet was getting hot quite quickly, with 100V input voltage.
After a few tests, a value of 6 turns for the primary was selected, and a small top load was added. This greatly improved performance.
The tesla transformer, consists of a PVC pipe 1.5cm diameter, with the 1000 turns secondary, inserted inside a larger PVC tube of 2.5cm diameter. The primary and the feedback coils are wound on the larger tube at the bottom. A very compact design that also allows the two tubes to slide, so the primary+feedback goes closer or further from the secondary, allowing to tune the resonance in a very convenient way. Also the mosfet was much cooler now.

So I've packed everything together in a nice compact setup. Here are a few more pictures and videos with the final setup:
Using the HFSSTC at 50V and then at 100V:
A few pictures with the HFSSTC:
A last video with the HFSSTC with lights turned off
A few things I've learned:
1) The IRFP460 works best. And it must be a quality manufacturer, else it might not work (I've tested two mosfets with different manufacturer, and the results were not the same)
2) When winding the tesla transformer, keep in mind that sliding the primary over the secondary helps reaching resonance / better performance / cooler mosfet
3) No breakpoint = dead mosfet – be careful!
4) The device produces strong RF interference, so be careful with all the electronics arround, including the digital camera, your computer, etc . Be careful not to touch any metallic object near the HFSSTC, it will burn you.
5) A topload might help, but better run some tests to see how it goes in your case
6) You will need at least 50V to power this oscillator.
Hope this proves useful,
Radu
Resources:
– my HFSSTC coil on 4HV
Update April 8, 2011
To power this SSTC I've used my variable power supply, that also has an alternative current output connector, rated for 24V 10A max. Using a voltage tripler (with caps and diodes) I get 94V DC. When connecting the SSTC, the voltage drops to 44V and the measured current is 2.18A. See the following video: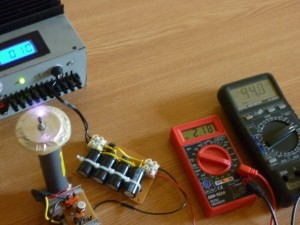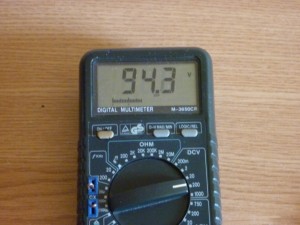 Here are some variants created by my readers
Spark HFSSTC:

Tio octa HFSSTC:

Jeg's coil: