Using induction, it is possible to transfer electrical energy remotely, without any wires. Here is a wireless power transmitter circuit, using a Royer oscillator.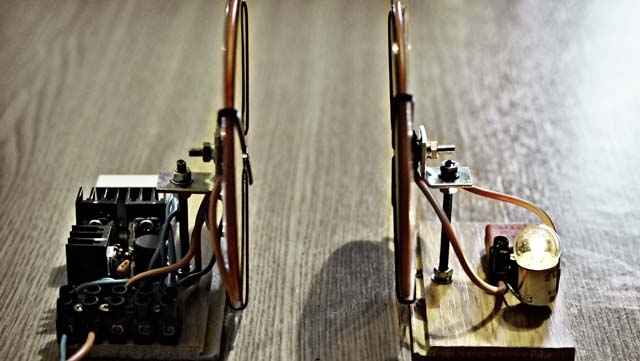 Similar to the Radio broadcasting technology, I have designed an emitter and a receiver. They are both tuned to work on the same frequency, in this case 63.1KHz. Their purpose is to transport electrical energy.
The oscillator in the emitter is a Royer push and pull type, using two IRF2807 mosfets. The emitter coil, is a circular 18 turns coil, with a tap at the middle (9+9 turns).
The receiver, uses a similar 18 turns circular coil, but no middle tap is required. I've used PVC insulated 1.5mm copper wire for both coils. A 440nF capacitor is connected in parallel to this coil, and then the load – a simply 12V bulb. See the circuit diagram for more details.

Circuit diagram: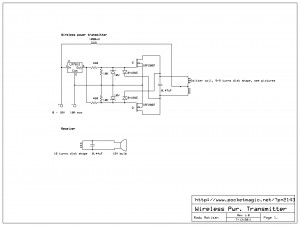 This is a good alternative to recharging my autonomous robot . The robot can automatically detect the power emitter, and approach it to recharge its batteries.
Note: In free space, all electromagnetic waves (radio, light, X-rays, etc.) obey the inverse-square law which states that the power density of an electromagnetic wave is proportional to the inverse of the square of the distance from a point source.
Doubling the distance from a transmitter means that the power density of the radiated wave at that new location is reduced to one-quarter of its previous value.
The power density per surface unit is proportional to the product of the electric and magnetic field strengths. Thus, doubling the propagation path distance from the transmitter reduces each of their received field strengths over a free-space path by one-half. Radio propagation.