"Ultraviolet (UV) light is electromagnetic radiation with a wavelength shorter than that of visible light, but longer than x-rays, in the range 10 nm to 400 nm, and energies from 3 eV to 124 eV. It is so named because the spectrum consists of electromagnetic waves with frequencies higher than those that humans identify as the color violet." Source.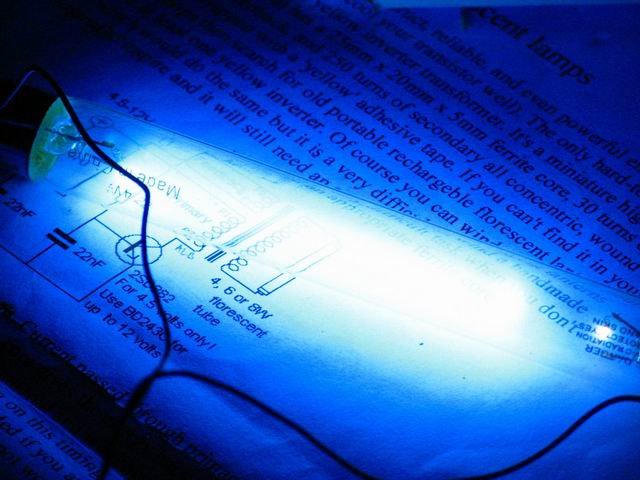 There are several ways of subdividing the UV electromagnetic spectrum. Most common is:
| | | | |
| --- | --- | --- | --- |
| Name | Short | Wavelength | Photon energy |
| Ultraviolet A, long wave, or black light | UVA | 400 nm–320 nm | 3.10–3.94 eV |
| Ultraviolet B or medium wave | UVB | 320 nm–280 nm | 3.94–4.43 eV |
| Ultraviolet C, short wave, or germicidal | UVC | 280 nm–100 nm | 4.43–12.4 eV |
There are several ways of producing UV light, that include natural sources (Eg. the Sun) or artificial sources (UV bulbs, UV tubes, N2 Lasers, etc).
I have tested two UV Light tubes: a black light UV tube, and a germicidal UV tube. There two correspond to UVA and UVC spectrum.
UVA
The wavelength is in the range of 400 nm and 320 nm. I have a 6W "blacklight tube". Looking at powered tube you barely see anything, but putting a piece of white paper shows powerful fluorescence. The second picture below shows this phenomenon: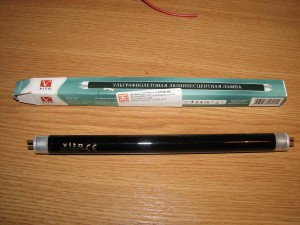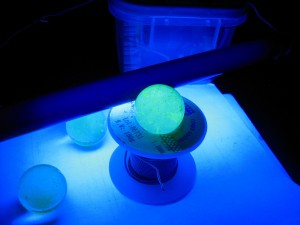 The reason for this is that my UVA tube emits long wave UV radiation and very little visible light.
In the third picture, the glass ball is an uranium doped glass. It shows greenish fluorescence when exposed to UV. See an article on this topic, here.
This type of tube looks black when non energized, as the deep-bluish-purple glass called Wood's glass, is a nickel-oxide–doped glass, which blocks almost all visible light above 400 nanometers.
Unlike the other UV subdivisions with shorter wavelength, the UVA emits lower energy radiation, that doesn't cause sunburns or skin cancer. Instead, UVA is capable of causing damage to collagen fibers and destroying vitamin A in skin.
UVC
I got these tubes at a fair price on Ebay. They were manufactured to be used in germicidal applications. Most of the light they produce is in the 280 nm–100 nm spectrum. The sun is a natural source for UVC radiation. Some of the UVB and UVC radiation is responsible for the generation of the ozone layer. After running my UVC tubes for a while, ozone smell could be detected in the air surrounding the tube.

In this video you can see that if the magnetic field moves, the plasma moves in such a way that magnetic field lines cannot slide across the plasma.
UVC rays are the highest energy, most dangerous type of ultraviolet light. Unshielded exposure of the skin or eyes to UVC light sources is quite dangerous. It can produce DNA damage that leads to skin cancer, since it penetrates the skin, so protection is required.
Power source
Solution 1:
To power these tubes you need a high voltage source. A simple solution is to use an inverter. You can also build one, using a power transistor (2n3055) and a flyback transformer ferrite core: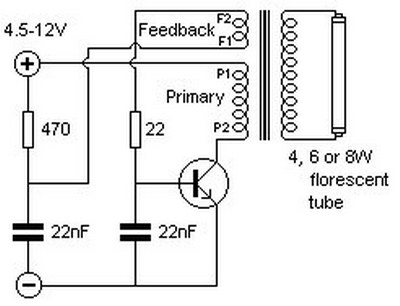 The resistors need to be at least 5W, and the transistor can be a 2n3055.
The primary consists of 30 turns, for the feedback you'll need 15turns and 250 turns of secondary, all concentric. You might need to be able to swap feedback (or primary) connections in case of wrong phase polarity.
Solution 2:
Another way of building the power source is without a feedback coil, but instead a 555 timer to trigger the power transistor. Here are the schematics:



Instead of the MPSA42 / MPSA92, you can use any other generic PNP/NPN pair of 0.5A minimum current.
The Mosftet (IRF540) will be needing a heatsink. You can use a different power mosfter or a power BJT transistor instead (eg. 2n2055).
The secondary can be winded manually or you can use a flyback secondary.
The advantage of this circuit is that you can adjust the frequency using the pot.
The next few days, I'll be publishing an article on various high voltage sources, so we'll see more on these later.
Radu Motisan